Pam Flowers Book Reviews
A few of the many positive reviews of Pam Flowers books. See also: From Parents & Teachers, and What Students Say & Send.
---
Ordinary Dogs, Extraordinary Friendships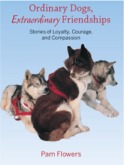 From Temple Grandin, author of Animals in Translation
"Ordinary Dogs, Extraordinary Friendships demonstrates how people and animals can work together and cooperate as a team."
From Kirkus Reviews
"Flowers (Alone Across the Arctic, 2011) is a sled-dog musher in Alaska. Her attachment to her loyal and hardworking dogs is unmistakable. She introduces readers to some of her favorite canine friends, each chapter offering in clear, engaging prose another portrait of a treasured dog. There's Amy, who accidentally fell through the ice in an isolated spot and remained lost until Flowers stumbled upon her freezing pet, patiently standing deep in an icy stream for 24 hours, trusting in her eventual rescue. She describes Jocko, a dog who pays perfect attention to her commands—until she mistakenly tells him to do something dangerous, and then he wisely ignores her. She tells of a bullying dog that picks on his harness mate relentlessly until that dog finally firmly puts him in his place, and then in an interesting twist, she relates that effective dog behavior to human bullying situations.

Baskin's pen-and-ink illustrations nicely capture the flavor of the text, with the canines' facial expressions reflecting the appropriate and touching anthropomorphizing nature of the tales. These dog stories are so clearly based on love and respect and include many details about long, arduous and thrilling journeys across the Arctic landscape, that they are sure to entertain and perhaps even inspire readers.

A must-read—and reread—for all animal lovers. (Nonfiction. 10-15)"
From Publisher's Weekly Feature: "It's A Pet's World (Humans Just Live in It)"
"Those jonesing for a larger compendium of inspiring pooch tales can check out …Ordinary Dogs, Extraordinary Friendships: Stories of Loyalty, Courage, and Compassion by Pam Flowers (Alaska Northwest Books, August).
From Michele Taylor, Teacher Librarian, Don Callejon School, Santa Clara, California
"Pam Flowers's book Ordinary Dogs, Extraordinary Friendships is a collection of powerful stories detailing her lifelong friendships with dogs and the positive character traits of those dogs. Children and adults alike will relate to the true tales of self-reliance, compassion, forgiveness, loyalty, courage, perseverance, trust, and fear. Along with simply being a pleasurable read, Pam's expert chronicling of events involving her dogs creates a strong tool for approachable character education for teachers, counselors and librarians. Stories that that involve dogs can seem so much more accessible and therefore have a greater impact on students facing life challenges. The charming, uncomplicated illustrations allow the reader to see the emotion in the faces of the dogs, while still allowing individual mental pictures and imagination to shine through. Also evident in this book is Pam's incredible patience and determination to bring out the best in her dogs while wholeheartedly respecting their individuality, a great lesson in itself. A terrific nonfiction read that will supplement classroom and library collections wanting to support common core curriculum."
Marjie Podzielinski, Coulson Tough School Librarian - The Woodlands, Texas
"Pam Flowers knows dogs. Dogs have helped her with nine arctic expeditions and traveling the Appalachian trail. This book is a unique look at how the dogs she has raised share the character traits of loyalty, courage and compassion. Each chapter is devoted to one dog and the impact they had on Pam's life. Did you ever think a dog could be a bully? Pam's dogs Amy and Chinook stood up to the dog that bullied them. For classes doing Iditarod units or Arctic units these dog stories will resonate with young readers. This is a book that can be used for counseling discussions or class discussion on character traits. These animals will warm your heart and demonstrate great character for us all. RECOMMENDED."
Alone Across the Arctic
From Publishers Weekly
"Coauthored with Dixon, a children's book author (Blueberry Shoe), this exciting memoir recounts Flowers's 2,500-mile journey across the North American Arctic, undertaken at the age of 46. Retracing in reverse a 1924 expedition led by Norwegian explorer Knud Rasmussen, Flowers and her eight sled dogs mushed from Barrow, Alaska, to Repulse Bay in Northwest Canada, becoming the first woman and the first American to do so. Fulfilling a lifelong dream and driven by an adventurous spirit forged in childhood, she left her job as a respiratory therapist and began seriously training for the expedition in 1992; the trip began in February 1993. The sled dogs, for whom the author has "tremendous respect," ranged in age from one to nine years and spring to life through descriptions of their strengths and distinct personalities. Dependent on one another for survival, Flowers details the care she took to make sure the dogs received enough food, water, rest and love for each day's travel. She recounts how her lead dog, Douggie, was able to sense the right direction even when she could not. She and her dogs battled cold, wind, storms and exhaustion on the tundra. Their isolation was broken by brief visits with settlers in the small Alaskan and Canadian communities where they rested and Flowers picked up supplies. At one point, due to unsafe summertime sea ice, she briefly considered giving up. Instead, the team rested for several months in an Inuit village and successfully completed the expedition in January 1994."
Copyright 2001 Cahners Business Information, Inc.
From School Library Journal
Lee Bock, Glenbrook Elementary School, Pulaski, WI, Copyright 2001 Cahners Business Information, Inc. - Starred Review
"With a young dogsled team, no sponsors, and no spare lead dog, Flowers set out to fulfill a lifelong dream to retrace, in reverse, a 1923-24 expedition by Norwegian explorer Knud Rasmussen and two Inuit companions, who traveled the length of the North American coast by dog team. If Flowers succeeded, she would be the first female and first American to mush that route solo. Using a balanced content of narrative, journal entries, boxed information bits, and numerous photographs, Flowers, with Dixon, details the exhilarating and often harrowing journey. Journal excerpts capture much of the emotion: "My eyelashes freeze together and I can't open my eyes. I have to crawl back to the tent on my knees-and frantically claw the snow away from my eyes." Readers will be fascinated by the descriptions of her dog team, introduced individually with photographs and comments. About Roald, for example, she writes: "Though intelligent, Roald lacked confidence, which sometimes caused him to clown around rather than try his hardest." A list of equipment and supplies is included. The message of this exciting book is important. At journey's end, as she stood alone with her dogs, she summarized her emotions. "The dogs, I believe, felt it too. We'd done well, and in doing so, had won what I consider the greatest reward of all: self-respect. We carry it with us wherever we go." This is an engaging survival story with broad appeal."
From Library Journal
John Kenny, San Francisco P.L., Copyright 2002 Cahners Business Information, Inc.
"A freelance writer for several outdoor magazines and a participant in Alaska's famous Iditarod Trail Sled Dog Race, Flowers here chronicles her 2500-mile, solo dogsled journey from Point Barrow, AK, to Repulse Bay in the Northwest Territory of Canada. Her journey began in the dark of winter 1993 as she sledded east following a route first taken by the fifth Thule Expedition in 1922. Even though Alaskan sled dogs are wild, bred to pull, and usually kept chained up when not hitched to a sled, Flowers developed a close relationship with each of her eight dogs (each of whose personalities she describes here). But despite all her affection, she almost had to abandon the trip when her lead dog, Douggie, ran away for 12 days. Along the way, she steadfastly endured the persistent Arctic storms and the ever-present fear of animal predators and encountered many of the people and places described in Jonathan Waterman's Arctic Crossing. Beautiful color photographs greatly enhance this delightful and well-written story of perseverance. Recommended for public libraries."
From Booklist
David Pitt, Copyright © American Library Association
"In 1981, Flowers, a respiratory therapist living in Texas, quit her job and moved to Alaska. Her dream: to take a sleddog team across the Arctic. More than a decade of training and adventure later (she ran the 1,200mile Iditarod race in 1983), she set out to re-create Norwegian Knud Rasmussen's 1923-24 expedition from Repulse Bay, Canada, to Barrow, Alaska. It was a journey of roughly 2,500 miles (she made the trip in reverse, starting in Alaska and winding up in Canada), and it changed her life in more ways than she could ever have imagined. This exciting book contains numerous photographs (taken by Flowers), excerpts from the author's trip log, vivid descriptions of close calls and breathtaking adventure, and even some tips on arctic travel. Flowers became the first American and the first woman to duplicate Rasmussen's expedition (unlike the Norwegian, she did it solo). It's an inspiring story, well told."
From The Bookwatch
"A fine armchair read....packed with ongoing action."
Patrica McConnell, Ph.D, Host of Calling All Pets, PBS radio, and a certified Applied Animal Behaviorist
"Forget mystery novels! I couldn't put this book down."
Big Enough Anna
From School Library Journal
Maryann H. Owen, Racine Public Library, WI Copyright 2003 Reed Business Information
"A true story of how the runt of the litter became the leader of the pack. Flowers was preparing for a six-month, 2500-mile dogsled journey from Barrow, AK, to Repulse Bay, Canada, which would make her the first woman to cross the North American Arctic alone. Anna and her littermates trained with the older, more experienced dogs, with the intention that the strongest would accompany the expedition. Before attempting to pull a sled, the young canines were taught to follow voice commands; wear a harness; and drag twigs, sticks, and then small logs behind them. Though Anna was the smallest, she proved to have heart and a love of running; she was chosen for the trip. About halfway through the trek, the seasoned lead dog ran off; Anna took over and was instrumental in finishing the journey, which lasted almost twice as long as planned. Farnsworth's soft, sunlit oil paintings convey the cold and vast expanse of the northern climes while deftly depicting the action. White, brown, gray, and blue predominate in the attractive illustrations. Dog lovers will appreciate this real-life adventure tale starring a loyal and intrepid canine."
2006-2007 Volunteer State Book Award
The Oregon Reading Association's Patricia Gallagher Award.
Douggie - The Playful Pup That Became a Sled Dog Hero
From School Library Journal
Lucinda Snyder Whitehurst, St. Christopher's School, Richmond, VA - Copyright © Reed Business Information, a division of Reed Elsevier Inc.
"Flowers and her dog teams have run the Iditarod and made numerous other expeditions in Alaska. In this book, she tells the story of a particular sled dog, Douggie. Because of his independence and high spirits, she initially wondered if he would ever be able to work as part of a team. Only after three years of training did she consider him ready to make a 325-mile journey to the Magnetic North Pole. Douggie proved his worth, acting as lead dog on the difficult expedition, and even facing off with a polar bear. While the story will be of interest to dog lovers and dogsled enthusiasts, the narrative is not exciting enough to pull in general readers. The visually striking but calm illustrations never convey a sense of danger or real fear that the team will not succeed. In fact, although Douggie's energy is repeatedly referred to in the text, the majority of the illustrations depict him in a static manner. Van Zyle's vibrant acrylic paintings beautifully render the light and expanse of the Alaskan landscape but the dogs and people never come to life. Children will be intrigued by the route map, which shows how dogsleds travel between islands on the ice. Kindergarten-Grade 3."
Ellie's Long Walk: The True Story of Two Friends on the Appalachian Trail
From The Midwest Book Review
"Ellie's Long Walk: The True Story of Two Friends on the Appalachian Trail is the story of a 2000 mile hike down the Appalachian Trail, taken by the author, Pan, and her faithful black Labrador, Ellie. Beginning in March of 2008, in Maine, Ellie and Pam hike together for 6 months, ending up at Amicalola Falls National park, Georgia. "Ellie's Long Walk" explains many unexpected dangers and trail obstacles met by the pair of travelers, including a thunderstorm with many downed trees, a tricky cliff climbing path to find, and an icy stream leading to a waterfalls, which Ellie falls into and narrowly escapes. Through discouragement, hardship, cold, injury, and discomfort, Ellie provides unfailing support and cheer to Pam, and the two keep going together until they make it to the end of the Appalachian Trail. Sensitive paintings of beautiful scenes, as well as frightening events, help document the epic journey of "Ellie's Long Walk. The only in-print children's book about the Appalachian Trail, "Ellie's Long Walk" has been nominated for the 2012 Chickadee Award (children's choice award for the state of Maine), the 2012 Red Clover Award (the children's choice award for Vermont), and also potentially the 2012 Children's choice award in Michigan and New Hampshire. "Ellie's Long Walk" belongs in every child's nature education library."
From ForeWord Reviews
Brian King, Appalachian Trail Conservancy
"Ellie's Long Walk is the true story of two friends, how their relationship began and the close trust and bond that developed over the course of their long walk on the Appalachian Trail in 2008. One of them is Pam Flowers, an intrepid hiker who lives in Alaska. The other is her dog, Ellie, aka Eleanor Roosevelt, a puppy she adopted and trained to partner her on this 2,000-mile journey.

"The story describes the pair's enthusiasm to explore new places and their commitment to undertake the Appalachian Trail, which runs from Maine through to Georgia. They trained together, taking ever longer walks with heavy backpacks on their backs and shoulders. And initially, when they set off for the journey, things went well. In good weather Pam and Ellie were hiking twenty miles a day. In bad weather their pace slowed, but through it all their spirits were high.

"With beautiful, watercolor-like illustrations, Bill Farnsworth's diagrams take us inside the tent they shared and to mountain precipices where they stood in silence, awed at the view. They helped and supported each other, and nowhere was this more crucial than after Pam took a fall, injuring her back and robbing her of strength. With Ellie's encouragement and patience, she was able to continue. But the situation worsened when Ellie headed out across an icy lake that cracked beneath her weight. With a stiff and sore back, standing on the shore, Pam knew there was no way she could retrieve her friend from the water. She saw her dog's head begin to slip beneath the surface and screamed "Ellie come!" Obeying the command, Ellie managed to oust herself from the icy water and make it back to land.

"By the time they complete the trail Pam and Ellie are dirty and exhausted, but triumphant. They have made a great team and given each other the strength to surmount their respective physical challenges. An interesting read for children ages four through seven, Ellie's Long Walk is an inspiring story about the bond between canine and human."
ForeWord Reviews, Lauren Kramer
"It is unusual for one small book to show both the peace and natural perils of the Appalachian Trail."
From Best Friends Magazine
"Once upon a time, a black Labrador mix puppy up for adoption chose Pam Flowers to be her human and take her home. That alone would make the basis of a winsome children's book. However, in the case of Ellie, the story is a true one and, a year or so later, the rescued canine and Flowers made an even longer journey: They hiked the entire length of the Appalachian Trail. On their 2,000-plus miles from Maine to Georgia, the pair met and overcame many challenges, as well as some harrowing mishaps. What shines through their six-month adventure, however, is a sense of friendship and accomplishment.
Sally Rosenthal, Best Friends Magazine
"Ellie's Long Walk is an absolutely wonderful book for young readers. Not only does it promote dog rescue and affirm the human-animal bond, it teaches, but never preaches, teamwork, determination, and the pursuit of dreams."