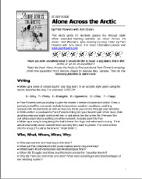 This Study Guide is a website classroom project designed to help students understand the many attributes that it takes to be successful, not only for Pam in her expeditions, but in their own lives as well.
View or print the Alone Across the Arctic Study Guide here.

View of print the Big Enough Anna Study Guide here.

Or you can download them to your computer in Adobe Acrobat .PDF format by right clicking the links above and selecting 'Save target as ...'
Please read Pam's personal Message to Teachers to learn more.